12 days of Christmas at Constantine Quilts!
'Tis the season to be jolly!
We are celebrating Christmas with you this year with a '12 Days of Christmas' extravaganza of specials to help you fill your stockings and we can't help but be thrilled! We have put together an amazing list of daily deals that will supercharge your quilting room into 2021.
Day 3
Renae Haddadin has been hugely successful in her machine quilting career and we were fortunate to also have her visit Australia to share her knowledge in 2012. Her rulers, tools, DVD's and books are brilliant resources to have for both piecing and quilting.
All items are discounted by 15% today only until midnight
Is a tool for marking or drafting circles and radiating lines up to 35 1/2″ in diameter. The center circle is 6″ in diameter and ruler is approximately 37″ long. This tool can be used for marking on a quilt top or drafting patterns to make the quilting pattern. Full instructions for drafting patterns can be found in the book Amazing Ways to use Circles and Rays.
You CAN draft seemingly complicated designs like Mariner's Compass, New York Beauty, and more! Making fabulous quilts in Renae's award-winning style requires nothing more than drawing some circles, dividing them into wedges, and connecting some points (remember dot-to-dots?). Her talent is creating techniques that are so clear and clever, beginners will be astonished, and so easy, quilters with experience will wonder why they didn't think of them! With Renae's 'whole process' method, you can create sections that come together easily to produce stunning quilts. Renae's quick, ingenious tips and tricks will carry over into all your sewing. A CD with the patterns for 7 projects, ranging in size from 37 inches to 92 inches square, is included.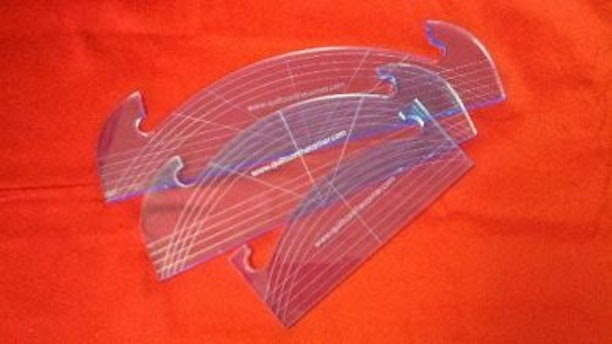 This is a great acrylic template for straight and curved lines. Available in 3 sizes: 7″, 10″ and 12″
These acrylic templates are a fantastic all-in-one tool that are useful for quilting straight lines, curved lines and guiding the hopping foot around. The markings are every 1/4″ to help you space the lines evenly.
In this information packed, two DVD set, Renae Haddadin creates six wall hanging samples that instruct you on how to maximise the use of Renae's Amazing Rays, Renae's Mini Rays and Renae's Arcs. This DVD set, which contains much more educational information than could be shared during the equal class time, is an excellent way to learn volumes from this award winning quilter.
Renae's knowledge and experience, combined with her amazing tools, will take you from the more basic use of the tools through the more complex and intricate techniques. Renae marks and then stitches each sample so you get to see snippets of the entire project. Her comfortable conversation includes many practical tips concerning design, spacing and visual impact that will help you get more "wow" with your own quilts. Drafting and stitching beautiful quilts has never been easier!
In this DVD, Renae Haddadin teaches the basics of using Renae's Mini Rays, to simplify quilt drafting and design. She shares several possibilities of how radiating lines and circles can be used and combined to create beautiful quilt blocks and medallions. Mariner's Compass type blocks and Circular Flying Geese have long been admired for their intricacy and beauty. Sharing her methods of drafting and sewing these designs, Renae teaches how the process can be much simpler than imagined.
You can combine all your orders over the 12 days by simply adding a note in the shopping cart to hold and combine to save postage costs.
FREE Shipping if total order is over $125-