12 days of Christmas at Constantine Quilts!
'Tis the season to be jolly!
We are celebrating Christmas with you this year with a '12 Days of Christmas' extravaganza of specials to help you fill your stockings and we can't help but be thrilled! We have put together an amazing list of daily deals that will supercharge your quilting room into 2021.
Day 4
Angela Walters is a high profile machine quilter in the USA that has written many books and hosted shows on YouTube. She is a wonderful down to earth celebrity who's mantra is done is better than perfect.
All items are discounted by 20% today only until midnight
Popular machine quilter Angela Walters will motivate you to try something new! Learn to stitch her fresh continuous-line designs on your longarm or domestic machine. Includes step-by-step instructions for continuous-line swirls, circles, squares, vines, arcs, and points. Using basic free-motion skills you already have, discover how to approach quilting a modern quilt by working with bold fabrics and negative space, uniting a variety of shapes, and blending designs. Draw inspiration from striking pictures of 20 modern quilts showing Angela's designs. You'll love her practical advice for choosing the perfect pattern to give your modern quilt maximum impact.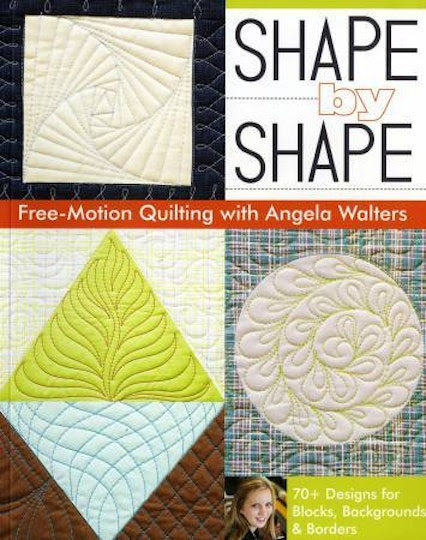 Follow step-by-step illustrations to create more than 70 free-motion quilting designs to use in specific shapes, negative space, and borders
• Features full-page quilt photos, close-up details of stitched designs, and a comprehensive visual index
• Best-selling author Angela Walters takes you to the next level in free-motion quilting by showing you how to manipulate shapes into modern designsIt's easy to plan your machine quilting – simply open Shape by Shape Free-Motion Quilting with Angela Walters and find creative inspiration on every page. User-friendly and visually exciting, the contents are first divided into three sections: Blocks, Negative Space, and Borders. Then, to make it even more accessible, the Blocks section is further organized by five shapes: Squares, Triangles, Circles, Diamonds, and Hexagons. With an illustrated index, more than 70 free-motion quilting designs, crystal-clear instructions, and gorgeous full-page photographs, this is the go-to resource you'll want handy before starting any quilting project.
You asked for it…you've got it! Best-selling author Angela Walters is back with 70+ all-new free-motion designs and variations to take your quilting to the next level. Tackle your quilt top one bite at a time, with ideas for quilting specific shapes—squares, rectangles, triangles, circles, diamonds, and hexagons—plus background fillers and borders. Quilt planning is easier than ever with step-by-step illustrations and detail shots of each motif, plus stunning full-page quilt photos and a handy visual index. Each versatile design is perfect for use with your longarm, midarm, or home sewing machine.
• Take the next step in free-motion quilting! Angela Walters shares 70+ free-motion quilting designs and variations to mix and match.
• Gorgeous designs for every shape—quilt blocks, backgrounds, and borders.
• Step-by-step illustrations, visual index, full-page quilt photos, and photo details of motifs.
• For longarm, midarm, and domestic sewing machines.
Take an in-depth look at the artistry of Angela Walters, a true visionary and leader in the modern quilting movement.
This coffee table book delves into her free-motion quilting journey in gorgeous detail. The best-selling author gives insight into her design process, with full-page photography of her own quilts and commissions for well-known designers. Discover how she sketches with grand details and lavish texture to complement each quilt's specific design.
• Inspired quilts! The work of celebrated artist Angela Walters in a collectible book.
• A visual conversation on choosing free-motion motifs for specific quilts and spaces.
• Stunning detail photography and full-page shots of Angela's free-motion magic.
Turn the corner to free-motion success with a meandering makeover! Best-selling author Angela Walters shows you that free-motion machine quilting doesn't have to be scary – with a couple of designs in your pocket, you can finish almost any quilt on your home machine and enjoy the process. Practice 8 meandering stitches for beginners plus unique modifications for each, with step-by-step visuals and quilted samples. Improve your free-motion quilting, disguise mistakes, and transition between designs with ease.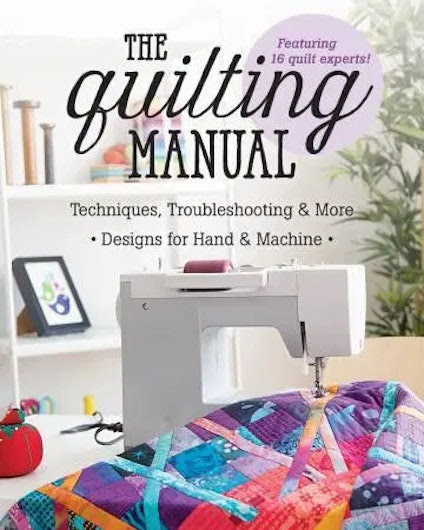 Conquer those unfinished quilt tops with inspiring designs and essential techniques for both hand and machine quilters. Whether you're an advanced beginner or more experienced, this robust variety of 100+ free-motion and walking-foot designs will make planning your quilting exciting again. Gain proficiency and get inspired with this all-in-one guide to quilting techniques and motifs from 16 esteemed quilters, including Alex Anderson, Natalia Bonner, Christina Cameli, Jenny Carr Kinney, Geta Grama, Laura Lee Fritz, Don Linn, Cheryl Malkowski, Christine Maraccini, Gina Perkes, Sylvia Pippen, Kathy Sandbach, Jessica Schick, Sheila Sinclair Snyder, Hari Walner, and Angela Walters.
• Energize your quilting with 100+ gorgeous continuous and stand-alone designs for blocks, borders, and more.
• IMove beyond the basics! Sixteen quilting all-stars share skill-building techniques and rich, lustrous motifs.
• IFinish quilts with the feed dogs up or down troubleshooting tips for hand, machine, and longarm quilters.
In this must-have resource, long-arm-quilting expert Angela Walters and home-sewing-machine specialist Christa Watson team up to provide the ultimate guide for machine Quilters. Gain insight into long-arm quilting, as well as guidance on quilting at a sit-down sewing machine. Whichever machine you use, you'll find warm encouragement and expert tips to help you every step of the way
• Find out why some designs and motifs are ideal for sit-down quilting while others are better suited to long-arm quilting
• Learn from the masters as you discover how to stitch a wide range of quilting designs, with instructions for 10 quilts.
• Packed with tips, tricks, and advice on how to machine quilt better; you'll learn everything you need to know to get started confidently and finish strong.
You can combine all your orders over the 12 days by simply adding a note in the shopping cart to hold and combine to save postage costs.
FREE Shipping if total order is over $125-