12 days of Christmas at Constantine Quilts!
'Tis the season to be jolly!
We are celebrating Christmas with you this year with a '12 Days of Christmas' extravaganza of specials to help you fill your stockings and we can't help but be thrilled! We have put together an amazing list of daily deals that will supercharge your quilting room into 2021.
Day 2
I have chosen four books from the amazing Amanda Murphy to tempt you with today! Amanda specialises in machine quilting on both domestic machines and longarm machines.
All books are discounted by 15% today only until midnight.
The perfect technical companion to Amanda Murphy's Rulerwork Quilting Idea Book, this in-depth guide has everything you need to know about rulerwork quilting on domestic and longarm machines.

Learn how to choose the right rulers and feet, plan out your quilting design with rulers, and combine rulerwork with free-motion quilting. Useful photos teach you how to execute quilting designs with basic straight-line and circle rulers, as well as specialty shapes like waves, clamshells, and feathers.
Basic introduction to ruler work, with 59 different designs using 6 basic quilting ruler shapes, and Amanda's suggestions for filling the space with free-motion quilting.
An inspirational Organic Free Motion Quilting Idea Book from Stash
Best-selling author Amanda Murphy's handy guide provides more than one hundred original ideas inspired by the elements around you—water, air, stones, fire, and more.
The chapters are organised into natural motifs, like flowers, leaves, air, and water. There are even seven types of feathers in this book, in all different configurations!
Then, within each chapter, she shows you how she would take these designs and use them in the common shape of a quilt top, like allover patterns, squares, borders, sashing, triangles, etc.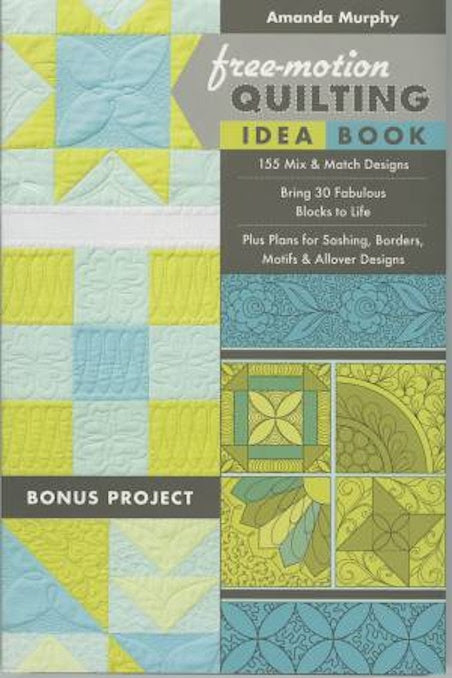 155 Mix & Match Designs • Bring 30 Fabulous Blocks to Life.
• Plus Plans for Sashing, Borders, Motifs & Allover Designs
Take the guesswork out of free-motion quilting with 155 fresh ideas, each handpicked for a specific space on a quilt. Popular author Amanda Murphy pairs unique free-motion designs with 30 well-loved quilt blocks, such as the Sawtooth Star and Drunkard's Path. Pick and choose elements from each chapter (borders, sashing, motifs, and more) for an artful finish! This must-have reference includes an inspiring gallery of quilts, expert advice on domestic and longarm quilting, and complete instructions for a table runner project to hone your skills.
You can combine all your orders over the 12 days by simply adding a note in the shopping cart to hold and combine to save postage costs.
FREE Shipping if total order is over $125-