12 days of Christmas at Constantine Quilts!
'Tis the season to be jolly!
We are celebrating Christmas with you this year with a '12 Days of Christmas' extravaganza of specials to help you fill your stockings and we can't help but be thrilled! We have put together an amazing list of daily deals that will supercharge your quilting room into 2021.
Day 9
Bethanne Nemesh – White Arbor Quilting! What can I say? Her work is simply inspirational, original and exciting. She is very generous with her time and shares so much on her social media to show you how she thinks and quilts.
Today both her amazing DVD's are 15% OFF whilst stocks last. Grab them so you can have them forever to rewatch at your leisure to learn these detailed techniques
All items are discounted by 15% today only until midnight.
Learn all the tips and tricks to bring free-motion yarn couching to life on your domestic sewing machine or longarm. Bethanne spends equal time demonstrating this art form on both styles of machines with a deep discussion of types of yarn, stabilizers, and techniques to use yarn couching in your creative life. Begin class learning to manipulate the yarn as classic free motion quilting. Learn stitches and textures that will help you explore more advanced projects, such as replacing appliqué on quilts.  Advance to using yarn couching as a pictorial art form. Two class projects are demonstrated, including a large scale flower with appliqué bee as well as the Meadow Tweet pattern of a daisy with bluebird, which is fully demonstrated and shown on a quilt, jacket, purse, and framed art.
This class includes 3:17 hours of long play video discussion, demonstration, and endless tips and tricks to be successful, using both styles of the sewing machine.  In addition, each purchase will come with a downloadable and printable class companion workbook, with additional full-color images, discussion, and patterns for class projects.
Chapter 1: Introduction and Materials (00:10)
Chapter 2: Getting Started with Successful Stitching (00:40)
Chapter 3: Pictorial Yarn Couching (01:27)
Chapter 4: Live sewing of the "Meadow Tweet" Class Project from start to finish (00:57)
PDF downloads of additional written class materials and four patterns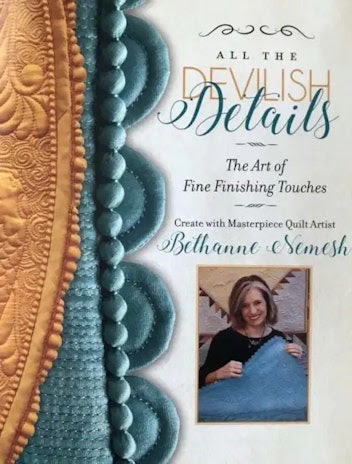 Bethanne is so very excited to finally be able to offer All the Devilish Details DVD which is a full-length retreat to you in your own home! As a National and International award-winning show quilter, she has learned that sometimes, the final finishing touch is all that separates a show quilt from an award-winning show quilt! Fifteen+ mix and match high-end finish details for hand-finished perfection on quilts, garments, and decorative items.  With techniques ranging from sweet and simple to elegant glory, you will find the perfect detail for your project.
What is included?
One high-quality dual-layer DVD with 3 hours and 15 minutes of packed instruction time, designed in easy play chapters for you to stop, practice, and perfect.  Without the need to wait for students in the class to complete samples…this is the equivalent of a three-day quilting retreat!
AND
One CD slider with 33 pages of printed class materials, to take with you to your sewing machine with reinforced directions, illustrations, and tips.
So, essentially, you will receive the equivalent of an 18-hour retreat and a book!
Each of the following amazing techniques has been filmed and produced by a professional crew with three cameras, to be sure you will not miss a single close up a stitch:
Bethanne's signature original Beaded Piping on all shapes of quilts
Simple Flanges
Tiny Swag Flange
Embellished Swag Flange
Ruffled Flange
Large Beaded Knife Edge
Simple Prairie Points
Seamless Cathedral Prairie Points
Illusion Stripe Prairie Points
Dots and Dashes
Scalloped Tongue Edge with piping
Covered Cording
Facing Tape Cording Units
Gradation Bead Scalloped Edge Split Binding
Machine applied Split Binding with Cording
Single Accent Beads
Tiny Bead Appliqué
Get All the Devilish Details DVD companion kit to quickly be able to experience all the techniques in class so you don't have to go shopping.
You can combine all your orders over the 12 days by simply adding a note in the shopping cart to hold and combine to save postage costs.
FREE Shipping if total order is over $125-