12 days of Christmas at Constantine Quilts!
'Tis the season to be jolly!
We are celebrating Christmas with you this year with a '12 Days of Christmas' extravaganza of specials to help you fill your stockings and we can't help but be thrilled! We have put together an amazing list of daily deals that will supercharge your quilting room into 2021.
Day 5
Constantine Quilts has been producing longarm machine quilting rulers since 2001 here in Australia when there were no others available. These are my No Frills range that are now being upgraded to the new 'Aussie Made' tagged rulers. The No Frills range is being phased out with all of these 25% OFF automatically at the checkout if not already discounted on each page. Only for existing stock.
The Aussie Made range have perfectly accurate etched guidelines that provide endless quilting design choices PLUS the most popular are also being produced for low shank ruler feet on domestic machines as well.
Today only you can get these at 20% discount!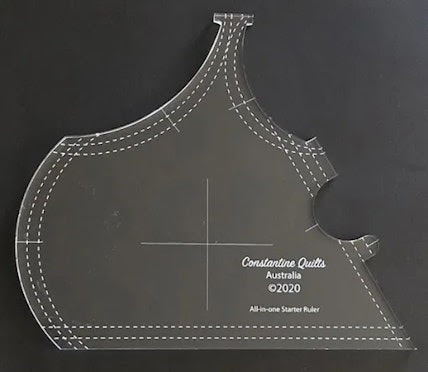 This All-in-one Starter ruler is perfect to start your ruler collection with multiple choices of quilting designs and features that will keep you very busy with only ONE ruler.
A straight edge for:
Stitch in the ditch
Crosshatching
Outlining or straight-line designs
60º hanging diamonds or triangles
A convex curve that stitches the same as the concave curve on the left side for:
Perfect pumpkin seeds
Continuous curve with the ruler remaining on the same side as the foot
A smaller concave curve for
Smaller continuous curves
Assist in outlining applique motifs
Introducing our new & IMPROVED Curved X-hatch & perfect tiny circle ruler. This ruler now comes in 2 sizes – suitable for both high shank/longarm and low shank ruler feet. PLUS it has etched guidelines to assist you in choosing the right position when quilting. The perfect circles are all labeled with easy to read numbers as well.
Curved Cross-hatching will give your quilt a nice soft feel as opposed to the look provided by straight cross-hatching. You can apply this treatment to either a full block or as a fill-in for the center of an un-quilted area.
The Clamshells ruler has a multitude of uses! With 4 sizes available in the one ruler you can create clamshells that are 3″, 1″, 4″ as well as 2″ in diameter. These have been recently redesigned to include accurate etched guidelines to assist you in repeating perfectly! Available in both 6mm & 3mm thick to be used on either longarm or domestic machines with low shank ruler foot. High shank machines can use the 6mm thick ruler.
Use them as a frame in a border for floral designs or together to create a doubled clamshell design.
90 Degree ruler with 6″ 'legs' has been UPGRADED with amazing etched guidelines to assist you in accurate placement of your quilting lines.
Use this ruler to stitch in the ditch or outline long straight lines. Stitch grids in blocks or borders. Stitch V's or L's in blocks or borders.
Circle machine quilting ruler in clear acrylic (will stitch out larger depending on the diameter of your ruler foot on your machine).
No Frills circles come with a pinhole pierced in the centre of the template. This is to assist in placing your circles on the quilt top. As an addition to this, you can also score centering lines using a sharp object and your quilter's ruler for placement.
CQ Aussie Made rulers have beautiful etched lines to guide you in creating endless designs and make placement and designing seamless.
Ovals for you to be creative with. The width is half of the length.
Great for use with double wedding ring quilts, whole cloth and also for spines of feathers to flow around the borders of your quilts. They can also be used to make a lovely scalloped edge to your quilt tops.
Be creative with curved cross-hatching using the laser-etched guidelines in both 1/8″ & 1/4″ divisions in two directions for 2 different curves.
We now have the upgraded 5″ swag with accurate etched lines to assist you in creating all your designs! The upgraded version will suit a 1/2″ diameter ruler foot on your machine only. Currently only 6mm thick.
5″ swag ruler with 6 different depths of swags.
This is the 5″ swag ruler and how it will stitch out on your machine. This ruler is foot sensitive.
You have a choice of 6 different depths of 'swag' that you can use. Personally, any grouping of an odd number appeals to me, but this is your choice!
You can combine all your orders over the 12 days by simply adding a note in the shopping cart to hold and combine to save postage costs.
FREE Shipping if the total order is over $125.